Battery Voltage internal resistance Tester FOR all recharge battery BTS-100
Applied environment:
1) Temperature: 0~40º C
2) Height application: Less than 2KM elevation
3) RH: 40~80%RH
Measurement range:
1)voltage measurement range: 0-5V minimum resolution: 1mV
0-50V minimum resolution: 10mV
2)internal resistance measurement range: 0-40mΩ Minimum resolution: 0.01mΩ
0-400mΩ Minimum resolution: 0.1mΩ
0-4000mΩ Minimum resolution: 1mΩ
Testing speed: 0.5seconds
Electric source: 220V± 10% 50Hz
Consume power: Max 50W
Tester size: L(190mm)Xw(153mm)xH(90mm)
Net weight: 1.5kg
Gross weight: 2kg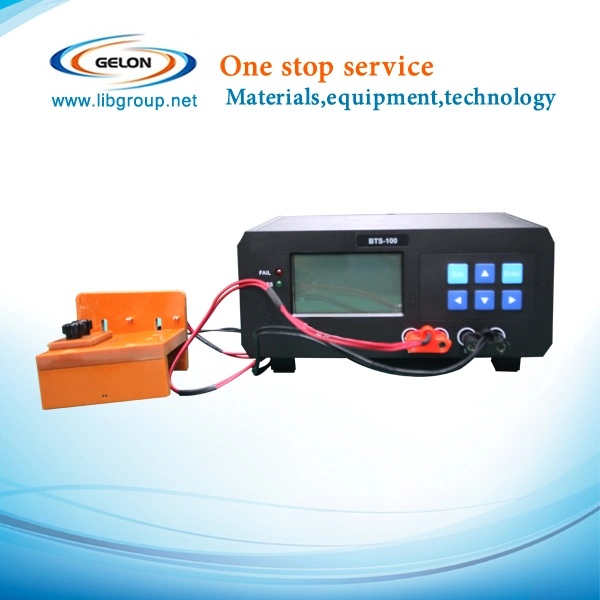 We can provide a full range of lithium battery materials and equipment
1. )full set of lithium battery materials, including:
LiMn2O4, LTO, LiNiMnCoO2(NMC), LiCoO2, Graphite(MCMB)and other cathode&anode battery materials; Aluminum foil, copper foils, battery separator, etc.
2. )full set of lithium battery equipment, for example:
Mixing machine --coating machine--oven--rolling machine--welding machine--slitting / cutting machine --winding machine--sealing machine, etc.
3)full set of lithium battery technology.
We can design the laboratory and production line, according to customer's request.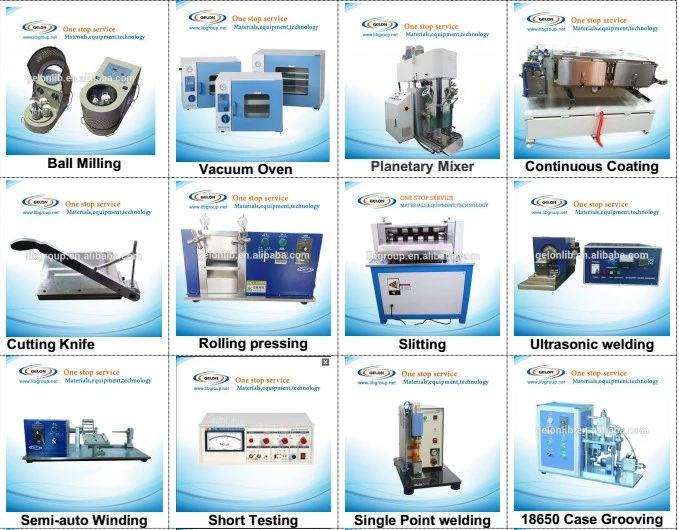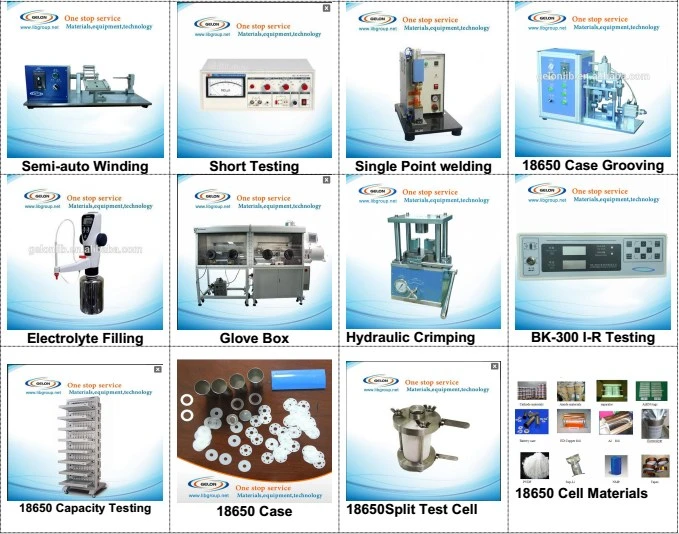 What's our advantage:
A: Full set of products chain from lithium ion battery materials, equipment, battery production technology;
B. 10 years lithium ion battery working experiences
C. More than 9 years exporting experiences and 6 years golder supplier in Alibaba
D. Strong teams for markets and agents, and customers all over the world from Asia, American, Europe. Middle East etc;
Choose us means you choose the all-powerful partner for your business
We have successfully completed lithium battery production line turn key project
With Bolivia government, this is the first lithium battery project in South
America, for mobile cell phone battery and E-bike battery. Also Bolivia President attended the opening on Feb 17th, 2014. Enclosed a photo
For your reference.
More details please check here:
Bolivia News Videos:
http://gelonlib.en.made-in-china.com
Project Opening:
http://gelonlib.en.made-in-china.com
http://gelonlib.en.made-in-china.com
For more detail pls kindly contact us by
P: 86 15106636475
| | |
| --- | --- |
| Testing speed | 0.5seconds |
| Electric source | 220V±10% 50Hz |
| Consume power | max 50W |
| Tester size | L(190mm)Xw(153mm)xH(90mm) |
| Net weight | 1.5kg |
| Gross weight | 2.0kg |