12V200ah best price Long Life Storage Gel Battery BTS/Solar/golf cart/power tool
>
12V200ah best price Long Life Storage Gel Battery BTS/Solar/golf cart/power tool
Characteristics (HTL type)
NEWEST IN 2016, CSPOWER PATENTED DEEP CYCLE LONG LIFE GEL BATTERY, BEST CHOICE TO WORK IN HOT/COLD TEMPERATURE SITES AND LONG LIFE OVER 15YEARS.
Many countries in Middle East and Africa such as Pakistan, Israel, Nigeria, Western African countries have an average temperature of 40°C during hot season. If the battery lay out of door, the temperature is even higher and can go up to 60 °C. You may already know it, for every 10°C increase in temperature, the battery life will be reduced by half.
Not only does it increase your capital expenses (CAPEX) and operational expenditure (OPEX) by spending thousands of dollars per year and per site in maintenance & electricity fees, it will also increase the energy used and thus increase your CO2 emissions. Reduction of Energy Consumption and increase of Energy Efficiency is one of the most important keys for outdoor use application.
Such problem also occur in super cold area such as Russia, Ukraine, Canada and so on.
Considering the above challenge, we developed a new range type of battery adapted for these environments.
We are proud to introduce our High/Cold Temperature Long Life Deep Cycle GEL Battery - HTL series.
Using thick plate design with special additives (super-C). This newly developed battery can work even high temperature up to 60°C and low temperature down to -20°C without the use of any air-conditioner.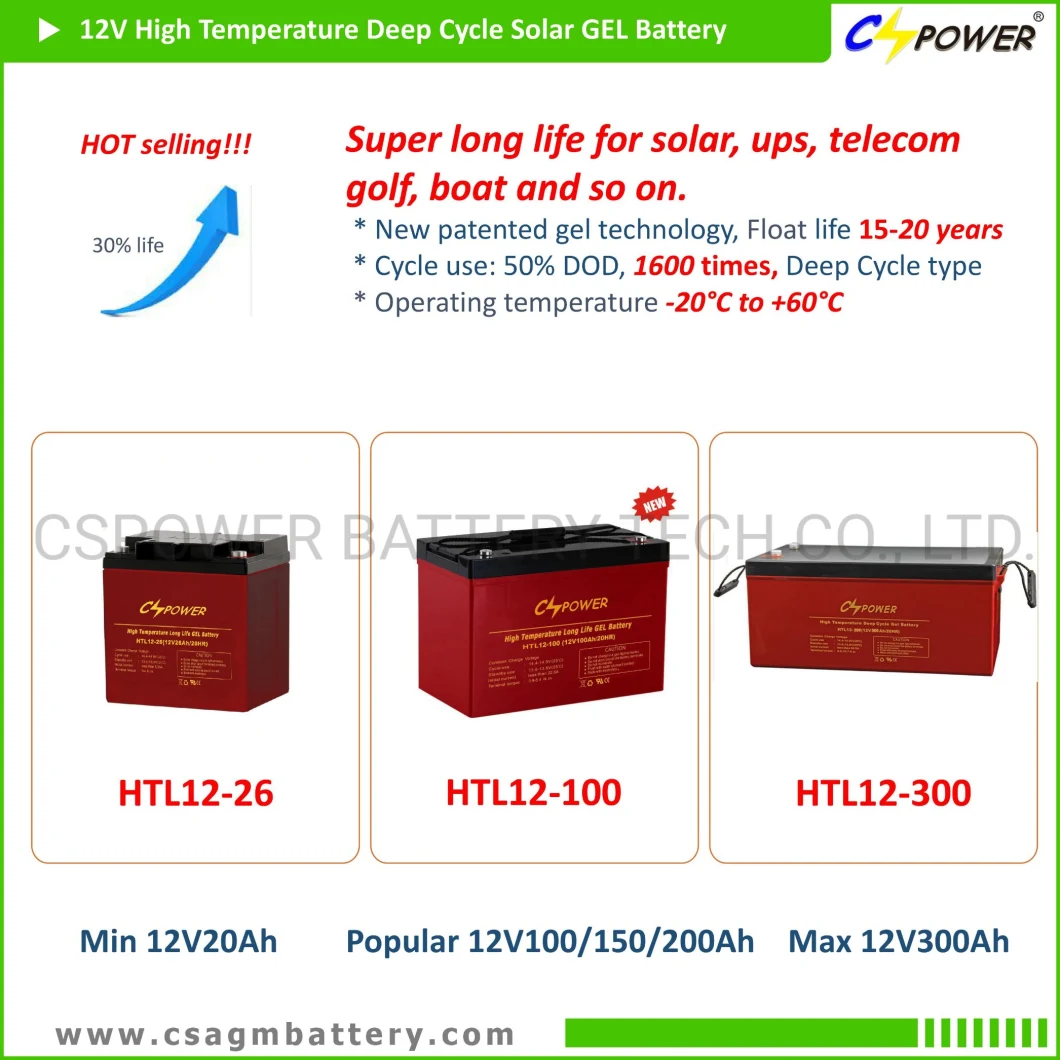 >
12V200ah best price Long Life Storage Gel Battery BTS/Solar/golf cart/power tool
Advantages (HTL type)
1. Three years warranty at 35°C-40°C average
2. Able to operate at -20°C to 60°C
3. Longer life and higher stability under high temp. environment (no air-con needed)
4. Use super-C additives lead plates: Deep discharge recovery capability
5. Cycle usage: 50% DOD, 1500 Cycles work in high/cold temp. area
6.
Applications

:
BTS Stations,
Solar & Wind energy system,
UPS system,
Golf Cart&Electric Wheels,
Other power system
>

12V200ah best price Long Life Storage Gel Battery BTS/Solar/golf cart/power tool

Construction (HTL type)
1. Positive plate: Thick high Sn low Ca grid minimize corrosion and prolong life
2. Negative plate: Balanced Pb-Ca grid for improved recombination efficiency
3. Separator: Advanced AGM separator for ultra low float current
4. Electrolyte: nano Silicon GEL electrolyte import from Evonik Degussa Germany.
5. Battery container and cover: fire resistance ABS for higher temperature
6. Pillar seal: 100% factory tested, proven two layers epoxy resin seal
7. Relief valve : Complete with integrated flame arrestor
HTL12-200

Nominal Voltage

12V (6 cells per unit)

Design Floating Life @ 25ºC

20 Years

Nominal Capacity @ 25ºC

20 hour rate@ 21.0A, 5.4V

200Ah

Capacity @ 25ºC

10 hour rate (37.8A, 5.4V)

180Ah

5 hour rate (66.8A, 5.25V)

159Ah

1 hour rate (233.3A, 4.8V)

115.5Ah

Internal Resistance

Full Charged Battery@ 25ºC

≤3mΩ

Ambient Temperature

Discharge

-25ºC~60ºC

Charge

-25ºC~60ºC

Storage

-25ºC~60ºC

Max.Discharge Current

@ 25ºC 1200A(5s)

Capacity affected by Temperature (10 hour )

40ºC

108%

25ºC

100%

0ºC

90%

-15ºC

70%

Self-Discharge@25ºCper Month

3%

Charge (Constant Voltage) @ 25ºC

Standby Use

Initial Charging Current Less than 45.0A Voltage 13.6 - 13.8V

Cycle Use

Initial Charging Current Less than 45.0A Voltage 13.6 - 13.8V

Dimension (mm*mm*mm)

Length 532±1 * Width 206±1 * Height 215±1 (Total Height 219±1)

Weight (kg)

58.6±3%
>
12V200ah best price Long Life Storage Gel Battery BTS/Solar/golf cart/power tool Features (HTL type)
HTL series is specially High-temperature sealed free maintenance deep cycle GEL battery with 15-20 years design life in float service, 30% more than standard Gel battery, and 50% more than Lead Acid AGM battery.
It meets with IEC, CE and ISO standards.With up-dated valve regulated technology and high purity raw GEL materials, the HTL series battery maintains high consistency for better performance and reliable standby service life. It is designed specially for using under high and cold temperature sites.
>CSPOWER BATTERY TECH Co.,Company Profile :
CSPOWER BATTERY TECH CO.,LTD
With more than 16years experience, advanced technology and equipments, CSPower dedicates in the design, development and production of high quality lead acid battery for various marketincluding Solar, UPS, Telecom, Electricity, etc. Its market covers nearly 168

countries and regions either by its own brand "CSpower" and "CSBattery" or by OEM business. Located in a world-class, modern industrial park of 50, 000 square meters in Guangdong, China, CSPOWER's top of line facilities produce an annual capacity of approximately 2kk KVAh, to create more than 130million US Dollars annual turnover.
CSPOWER Battery factory pictures sharing: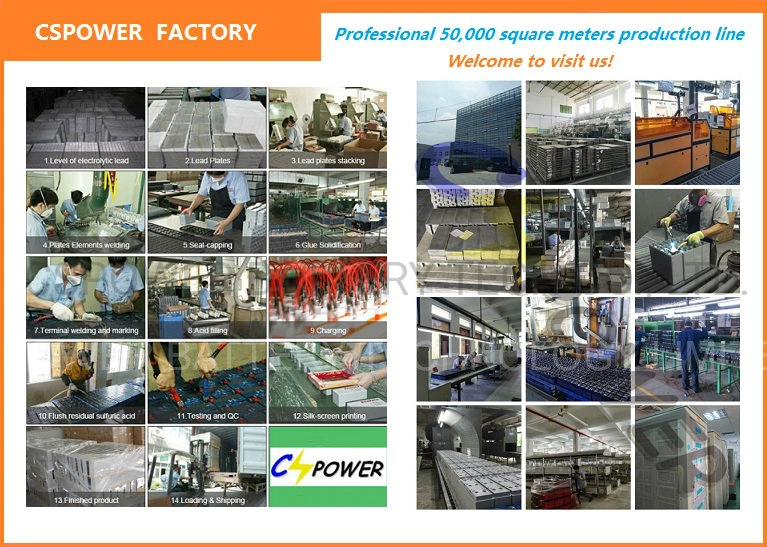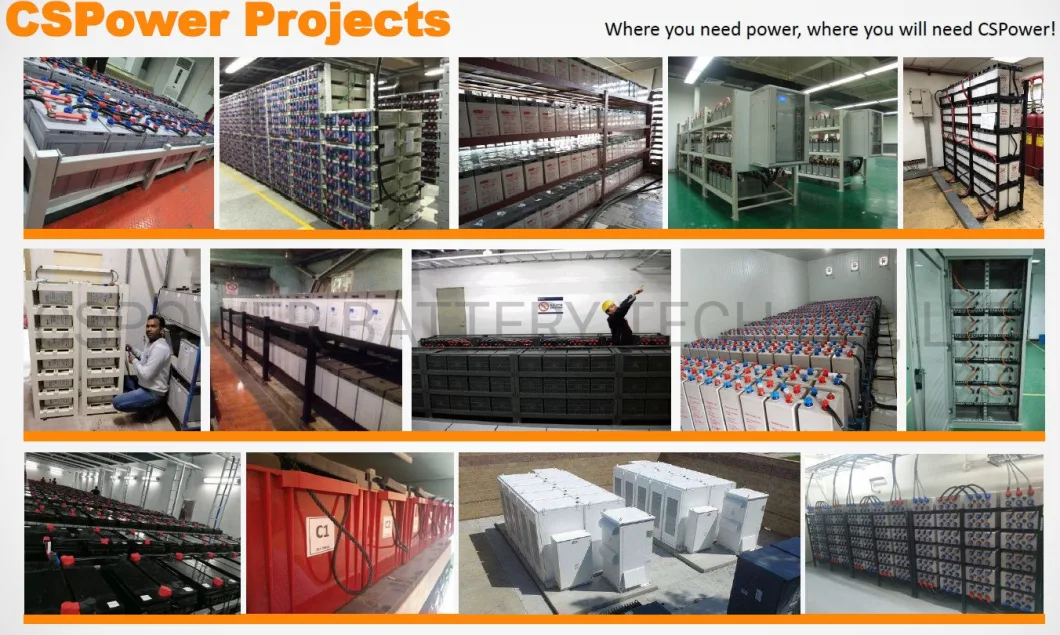 >CSPOWER BATTERY TAGS:
1. Solar Battery, lead acid battery, Gel Battery, AGM Battery, Batteries lead acid, SLA Battery, Free maintenance battery, Sealed battery, Deep cycle battery, Solar Power battery,VRLA Battery,rechargeable battery, Long life battery, Solar Gel Battery
2. Storage battery, Solar panel Battery, Inverter battery, Solar charger controller battery, UPS Battery, Marine battery, car battery, Electrical battery, Telecom Battery, Solar back-up battery, Terminal battery, Front Access battery, battery pack, Solar batteries, 12v battery
3. OPzV Battery, Gel Battery, 2V tubular battery, Deep cycle battery, Long life Gel Battery, OPzV tubular plates battery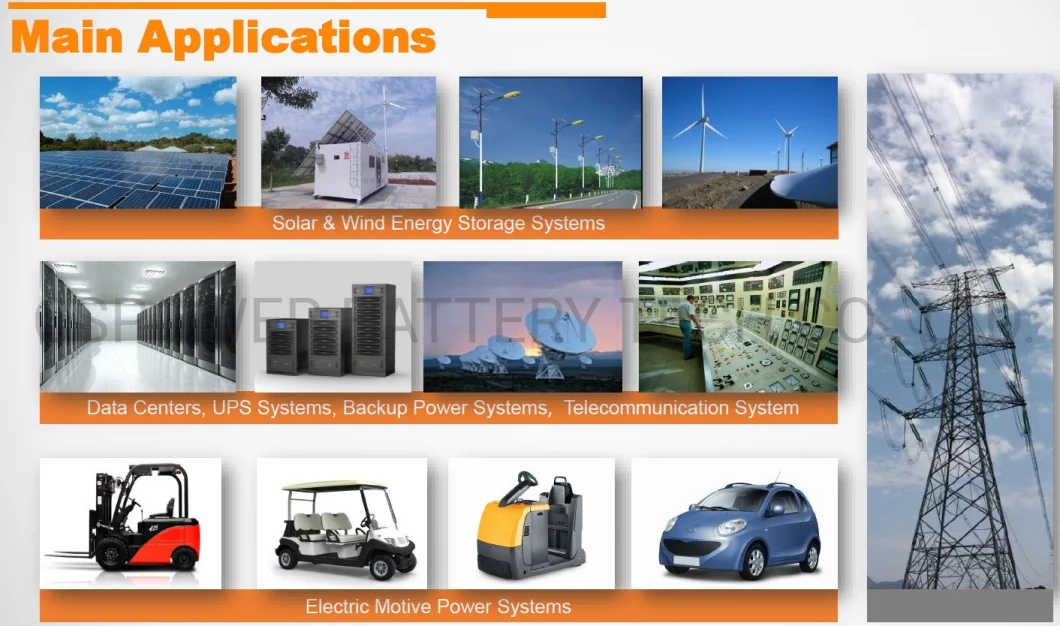 >Certificates of CSPOWER Batteries 2v 6v 12v: CE, IEC, ISO
With the continuous innovation and pursuit of perfection, CSPOWER has own professional Quality Management System since established. We have successfully got the certificates of ISO9001 quality management system, ISO14001 environment management system, and passed the audit of OHSAS 18001. Also, we have received various product quality recognitions, like UK's IEC, CE authentication of the European Union, RoHS, ISO9001, and TLC certificates in China.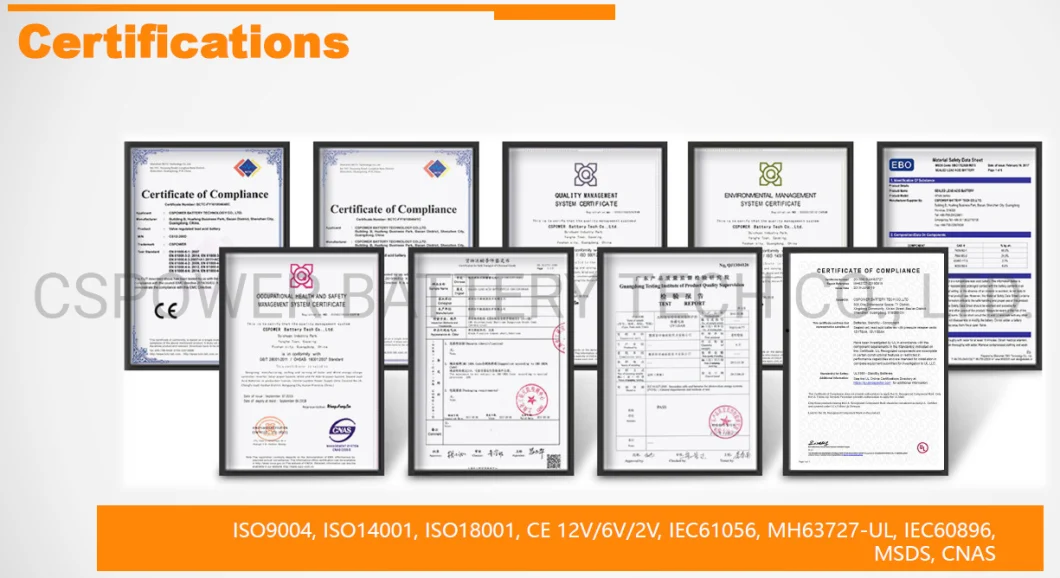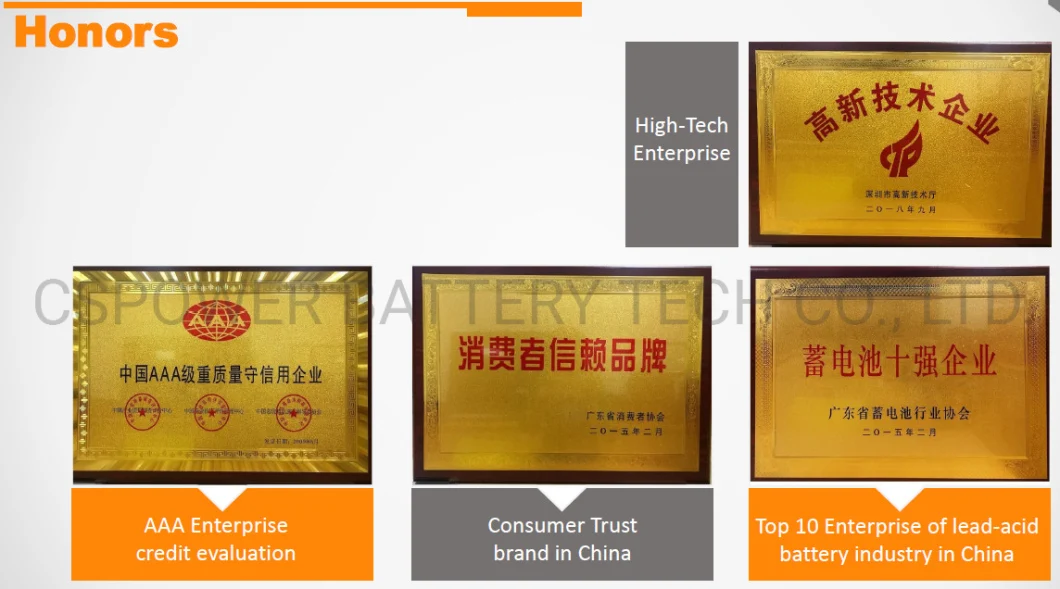 >CSPowe Customers

Its market covers nearly 168 countries
CSPower has a strong partnership with many famous customers all around the world,including Wal-Mart,ZTE,APC,Eaton,Delta and Huawei. Our batteries have beenwidely used in many electrical sectors such as Solar&Wind, Banks, Oil & energy, power grid, telecommunication, medical treatment, education, transportation, etc.
we have exported to over hundreds of countries such as: USA, Brazil, Italy, Greece, Germany, Spain, Russia, Iran, Korea, Thailand, South Africa, Nigeria, etc.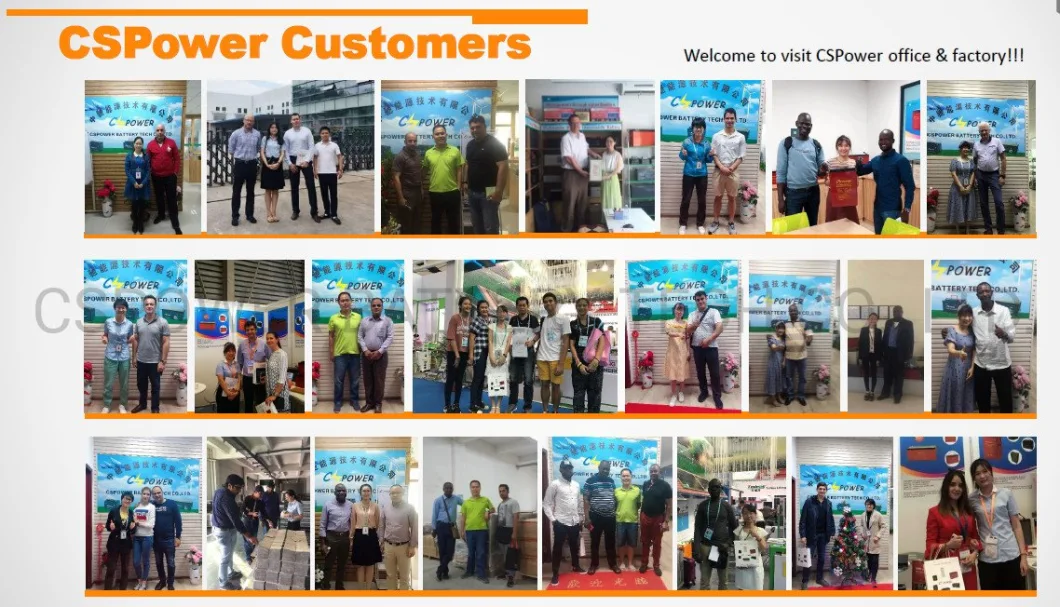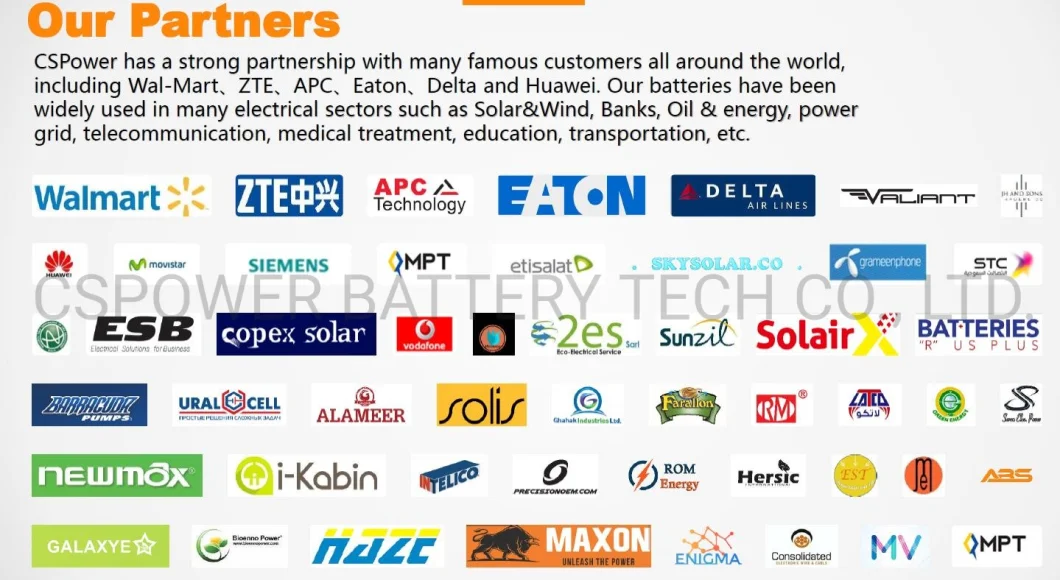 >Why Choose CSPOWER?
1) Nearly 13 years leading manufacturer,established in 2003. Factroy size: 50000 square meter
2) Strict management system and quality control, 100% inspection.Factories are satisfied with ISO 9001 & ISO
14001, products with CE/RoHS/TLC etc approval.
3) A professional experienced team to provide you high-quality service.All enquires will be replied in 24 hours.
4) Competitive price help you to occupy more market share
5) 20000KWH production capacity to guarantee the best deliver time
6) 1-3 years warranty policy, up to now, our product defective rate is under 0.4%.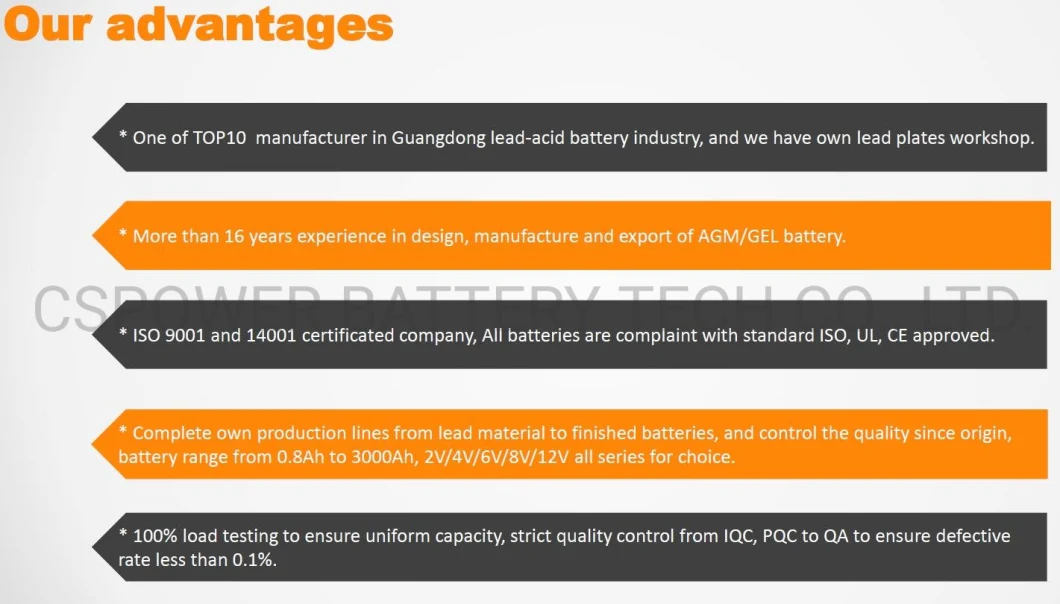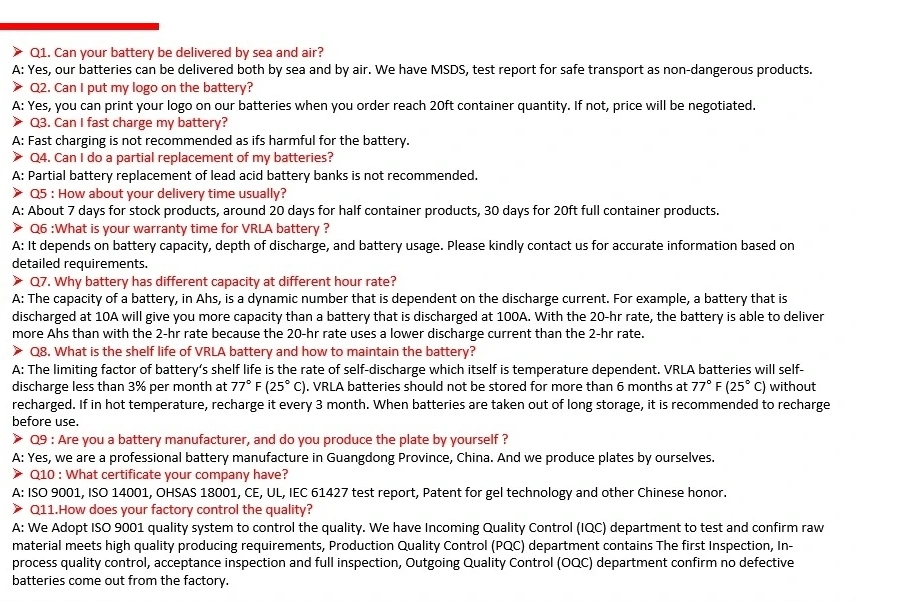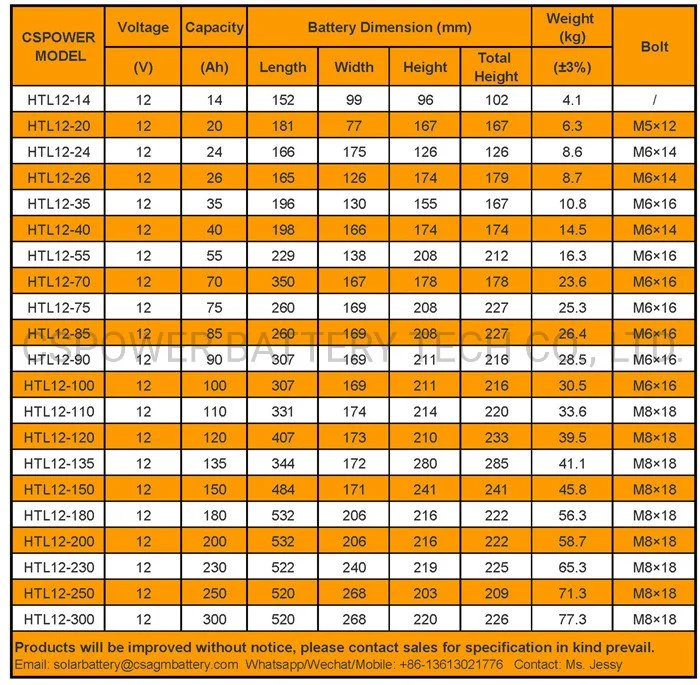 Contact:
Questions are welcomed, trust Helen always here provide best for you.
(Constant, Safe and Durable Battery for You)