Building Material/ Self-Adhering Bitumen Waterproof Membrane for Industrial and Civil Building Roofing/Metal Roofing Membrane
Definition
of
STICKFLAT(Self-adhering Bitumen Waterproof Membrane):
A normal temperature applied, self-adhesive, flexible bituminous waterproof sheet based on premium rubber bitumen adhesives, and reinforced with glass fiber mesh or non-reinforced, bottom surface protected by PE film, top surfaced coated with PE film, HDPE sheet, aluminum foil or mineral slates.
Self-adhered bitumen membrane is made by blending synthesis high polymer modifying asphalt parent metal with asphalt and SBS, TP, immersion medicinal preparation, matches the special waterproof sizing material which makes by the active assistant.
Advantages:
·Self-adhering - Peel to apply, supper easy to install
·High Elastic - Easy to apply, supper fit for all kinds of structure
·Anti-aging Formula - Specific formula, longer service life than usual bitumen membrane
·Excellent Heat Resistance - Stable physical performance even at 80ºC
Choose The Type Fits Your Most:
| | | | |
| --- | --- | --- | --- |
| Type | Thickness | Width/Roll | Lengh/Roll |
| STICKFLATTMPE/HP/HM/AL 1200 | 1.2mm | 1.0m | 20m |
| STICKFLATTMPE/HP/HM/AL 1500 | 1.5mm | 1.0m | 20m |
| STICKFLATTMPE/HP/HM/AL 2000 | 2.0mm | 1.0m | 20m |
*Attention:The thickness width and length can be customized according to your needs within a certain range.

STICKFLAT™ PE - Membrane with PE film surface
Feature:
The protected products will not be polluted, corroded or scratched in the process of production, processing, transportation, storage and use, so as to protect the original bright and shiny surface and improve the product quality and market competitiveness.
STICKFLAT™ HP- Membrane with HDPE film surface
Feature:
Low cost and high efficiency.

Good tensile strength and elongation at break

High flexibility and no pollution
STICKFLAT™ HM - Membrane with laminated HDPE film surface
Feature:
High tear strength and dimensional stability

High tear strength and dimensional stability, excellent resistance to high and low temperature

Excellent self-healing properties
STICKFLAT™ AL - Membrane with aluminum foil surface
Feature:
Excellent electrical conductivity

Excellent folding resistance and good toughness
Applied range:

Storage and transport:
woven bags roll packing tray/carton packing.

storage and transportation, different specifications and types of products should be stacked, should not be mixed.

avoid weathered, pay attention to ventilation.

storage temperature should not be higher than 45 ºC, coil flat storage when the height is not more than five layer pattern, and standing stock t put E layer.
Why choose us?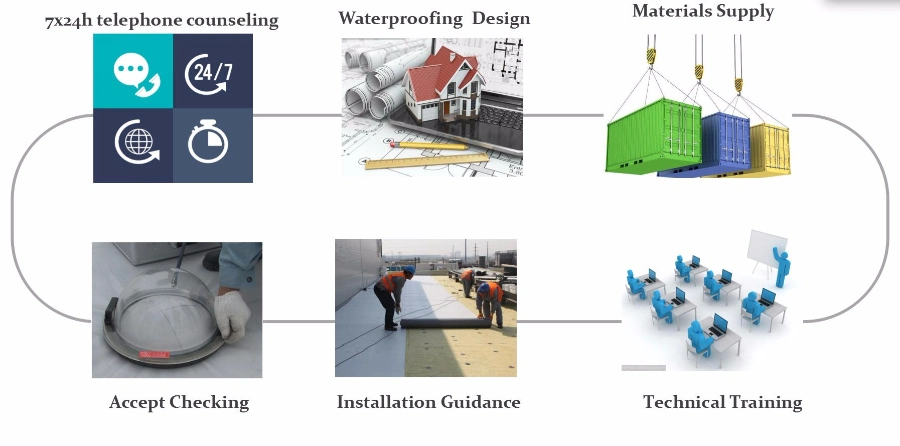 What can we do?